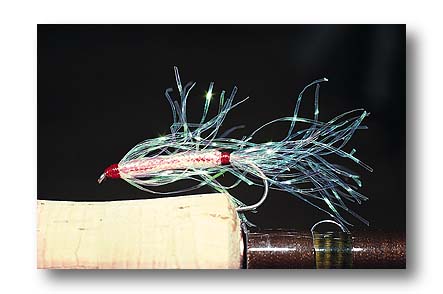 Pure Flashabou, the Christmas Tree is a proven taker of salty sea trout.

© photo Steen Ulnits
The Christmas Tree can be tied in various ways but the basic pearl pattern looks like this:
Hook: Mustad 34007 # 1-8
Thread: fluorescent red nylon
Underbody: fluorescent red chenille
Tail: pearl mylar tubing
Body: pearl mylar tubing
Hackle: pearl mylar tubing
As shown in the drawing below by my good friend from Sweden, editor of "Flugfiske i Norden" magazine, Gunnar Johnson - tail, body and hackle is made from one and the same material: A single piece of mylar tubing which is split for the tail, covers the chenille underbody and again is split and folded back as a false hackle.Here's how to tie a Christmas Tree in three simple steps. You can't go wrong:
When you see commercially tied Christmas trees, they are invariably tied the wrong way. To save money they are rarely tied on stainless hooks but on lighter bronzed hooks that rust quickly in saltwater. To cut time and expenses, the chenille underbody is often left out resulting in a very light fly that does not sink easily. Finally, they are often tied with non-fluorescent thread...
So, if you want to make sure that you get the right thing, you have to tie them youself!
Just like the Muddler, "Juletraet" is a fly type, not merely a pattern. It is basically always tied in the same way, but colours can be changed according to whim and conditions. Personal favourites of this creator is pearl (the original and most versatile), silver (for large versions), hot fluorescent pink (for winter and cold water) and fluorescent green (for night time fishing where it can be charged).
I have tied and tried any number of other colours and they all catch fish under some kind of condition. But the four colours mentioned above have become my personal standbys since they are very good producers under a wide variety of varying conditions.
A hot pink "Juletrae" is a very good winter fly for cold water sea trout.

© photo Steen Ulnits
The Christmas tree is a simplistic but very efficient fly that has caught thousands of trout and sea trout in many parts of the world - Patagonia and Tierra del Fuego included. Not to mention the steelheads up to 20 lbs. that I caught on it in British Columbia. Or the 9 lbs. brown trout that took it in a mountain lake in Iceland two summers ago. Or the 6 lbs. brook trout that engulfed it in Labrador. Or...
The list is endless and you shouldn't go fishing without it!
© 2006 Steen Ulnits
15 lbs. steelhead caught on "Juletraet" on the Sustut River, BC.

© photo Steen Ulnits